Leaving the Blue Sky of AZ, I had no reason to 
sing the blues..
.I was headed to Christmas shows on HSN and then Christmas Sparkle in NYC!  So, I chose to celebrate my last night in Scottsdale
bejeweled in blues
.   My Farewell Blues include a lapis necklace that holds a romantic drop of two oval Lapis doublets, which are surrounded and joined with white topaz. The complimenting earrings are 18K White Gold and have couplets of lapis surrounded by white topaz that flair to large dramatic Turquoise (December Birthstone)….that gently swing, with each turn of my head.
AAA FIVE DIAMOND RESORT
Once bejeweled, it was easy to choose a venue for my last evening: The Phoenician, A Luxury Resort Collection, holds a  Five Diamond Rating from AAA. This luxury resort has hosted film and television productions (e.g. "Raising Arizona"),  and it has also been the feature of TV shows (Travel Channel: "Luxury Getaways" & "Lifestyles of the Rich & Famous").  Located at the base of Camelback Mountain, The Phoenician offers  breathtaking views of the mountains, the desert, the city…and sunsets that remind me of the Colors of Diamonds.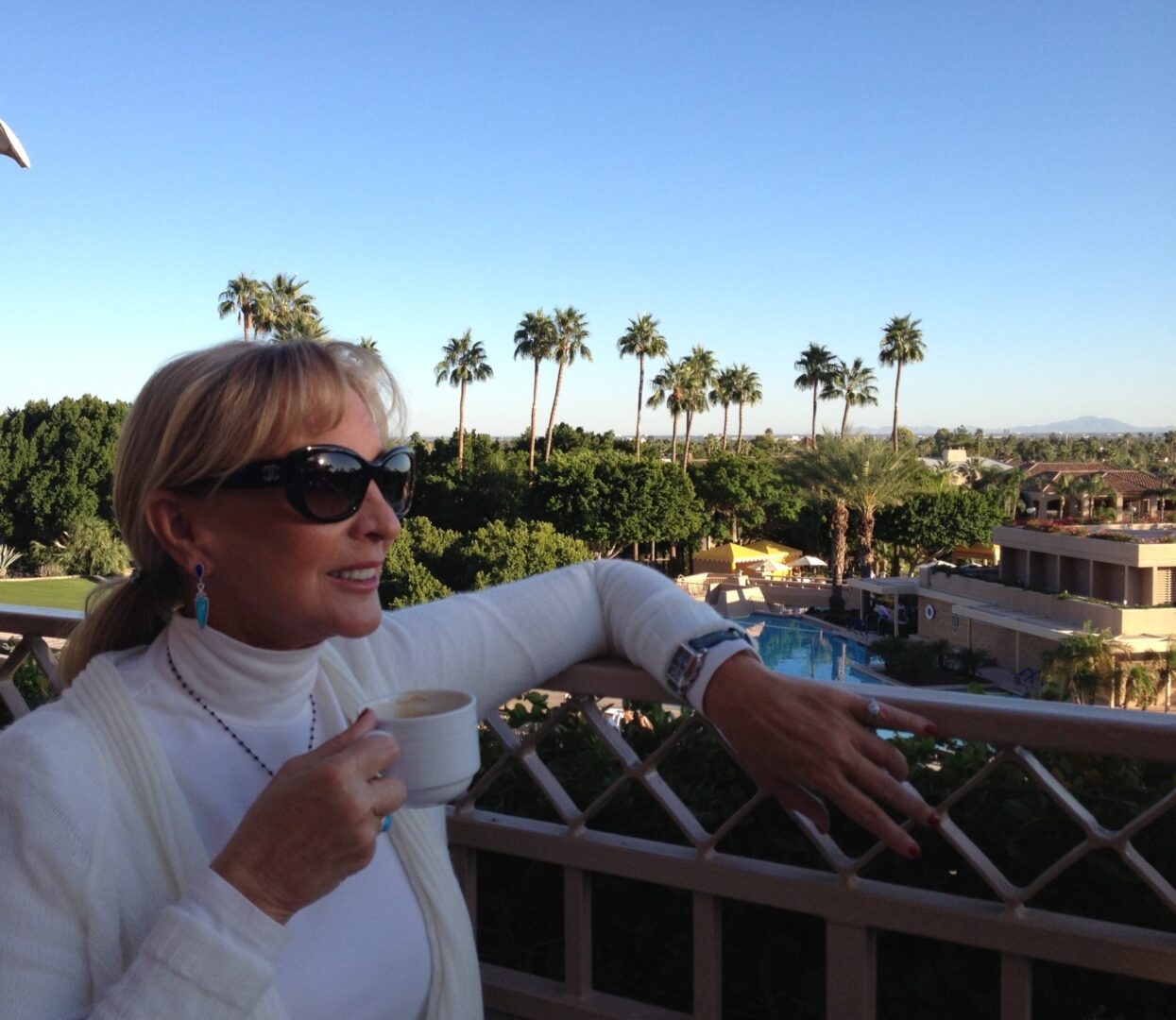 I am sure you will enjoy … some info about my watch that I'm wearing. Like all of my Farewell Blue Jewelry, the watch is available from Schmitt Jewelers in Scottsdale. Shopping at Schmitt is a different experience, which may be why they are the JCK 2014 LUXURY RETAILER of the Year!  Their store design is what sets them apart from most jewelers. The design makes for  a fun shopping experience, because most of the showcases are eye-level; they also have a large touchable ring display for exploring and playing!  So, back to the watch: the brand is Michele, which offers several watches with interchangeable bands. The band I chose was perfect for this evening, partly because of it's descriptive name: "Crystal Blue Nights".