Living alone has not been easy; nor does it ever feel natural (following the trauma /loss of my family). So, as COVID 19 forced me into isolation from my community…I needed to redefine my life (again) and redefine isolation.
Much as been shared online about people who have rediscovered the joy of their family and the value of spending more time with their children, There are also stories about local heroes who creatively address the safety of our first responders, the security of the unemployed with limited resources, and the loneliness of the elderly. As I emphasized in my last blog: we are all becoming better people, who are more conscious of others.
  NO GUILT
I am not knocking (nor adopting) advice from "experts" who tell us to keep to a routine and exercise.  Nor am I motivated  (sadly), by the hundreds of posts reminding us of the authors and inventors who excelled during the great plagues.   I can find joy with a retreat to the comfort of old movies and old books (with known happy endings). While I may not be motivated to sweat with live-streamed exercise videos, we all know that stress/worry can hurt our immune system, maybe more than the lack of exercise!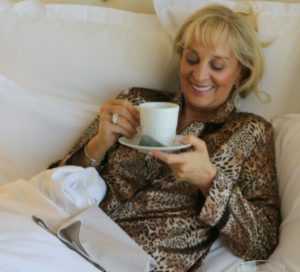 If you or I  find ourselves overwhelmed in solitude, there is a 5-4-3-2-1 mental exercise to acknowledge five things we see around us, four things we can touch, three things we hear, two things we smell and one thing we can taste. 
  So, Let's Just Live and Enjoy Life ….even if it is as simple as enjoying more breakfasts in bed.
Opportunity Continues to Knock 
There is an increase in some jobs (if you're young and  healthy), which can help ensure your community keeps receiving medicines and groceries, etc.  I am fortunate that when schools closed it became apparent that many teachers with their own children at home, have limited time to teach/support their students. Only now would a retired-teacher (like me) be so welcomed by schools… to teach online via video conferencing. It doesn't hurt that my TV experience as an expert host on HSN makes me comfortable speaking while looking into a black camera lens. LOL I never imagined, however, that my isolation would allow me to rediscover my passion and first career: teaching children. I am humbled and grateful for this new journey as an online resource teacher. I continue to believe that learning should be fun (for children, as well as adult-learners) and teaching should be fun too…and for me, it is (again).
Insolation is a time for Self-Discovery & Joy – Let's Sparkle On