Crossing the threshold of
Feathers Fine Custom Furnishings
in Scottsdale, I immediately felt as if I entered a life-size jewelry box….a jewelry box that encompasses over 20,000 square feet! The showroom features dozens and dozens of living vignettes that showcase upholstered seating, bespoke window coverings, handcrafted casegoods and much more. So, why would I choose a custom furnishings venue in Arizona (I hear you asking)? Well, first let me say that I felt like I belonged in a jewelry box, after I was adorned with magnificent jewels from
MOLINA FINE JEWELERS
.  Indeed, I was Sparkling in Scottsdale!
Before my visit to Feathers, I had an opportunity to be seated (at the home of a personal friend) in a chair that was designed and hand crafted by Feathers;  I can only describe it as JEWELRY FOR THE HOME.  I wanted to see more, so here I am …capturing my experiences in this living jewelry box. Dressed with jewels befitting the sparkling furnishings; around my neck and décolleté is a dazzling Platinum and 18K Gold necklace with ELEVEN (11) FANCY INTENSE YELLOW DIAMONDS!  For diamond aficionados the Diamonds are Asscher Cut–and yes, the necklace is over $1mm…oh, the rarity of Fancy
Intense
Yellow Diamonds!
 
D
etailing & Diamonds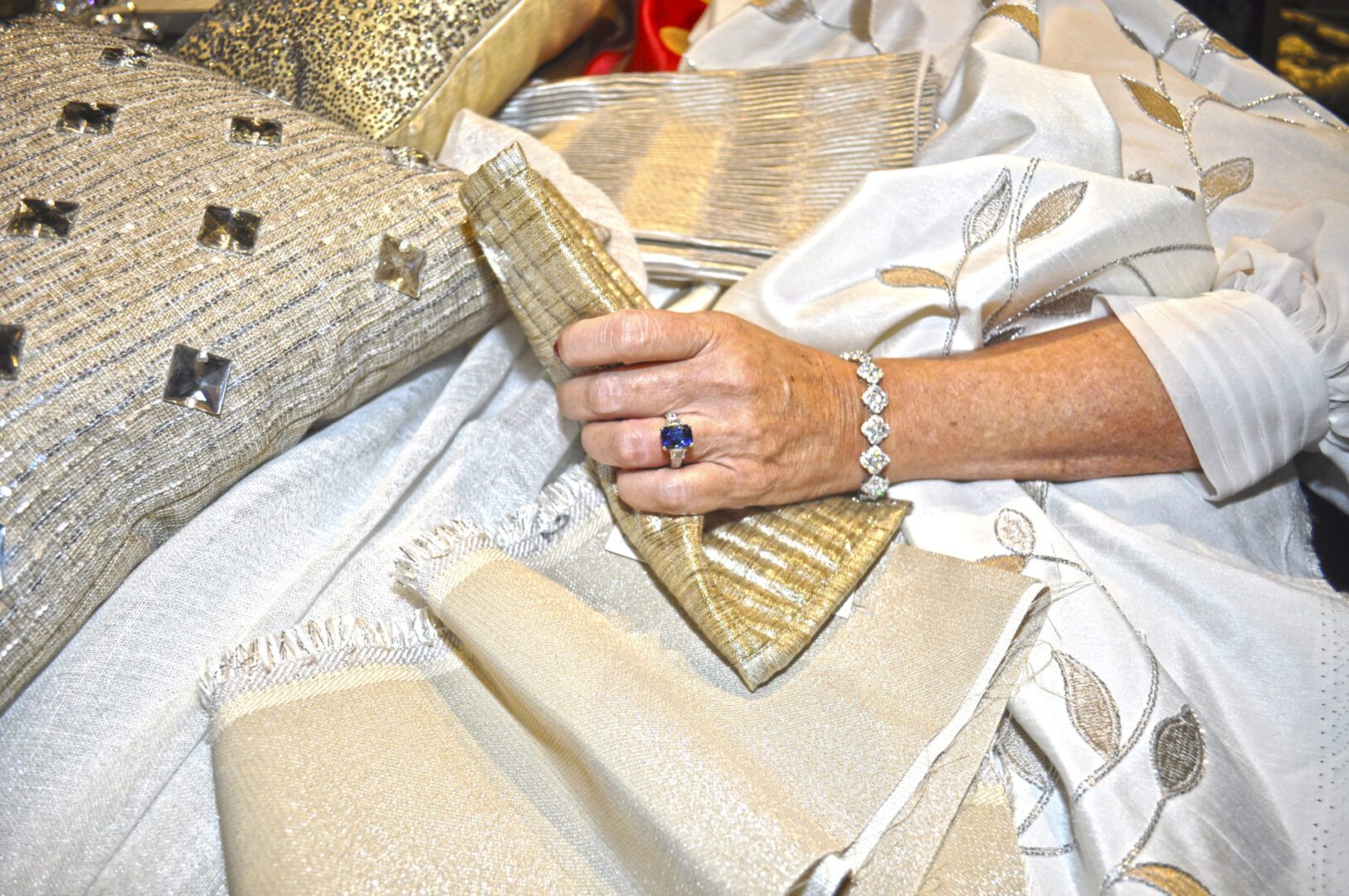 I am told that one of the most important beginnings (i.e. collaborating in the design of your custom furnishing) includes your choice of fabrics.  Hundreds of designer fabrics were on hand for my viewing… but, oh, the power of touch!   To see the fabric result in tufted chairs and sofas that incorporate sparkling buttons and Sarovksky crystal buttons ….well, a life-size jewelry box it is! From my point of view,
 Surround Sparkle
is more moving that surround sound.. no matter what music is playing!

BTW: the sparkling ring on my finger does not have crystals…….. After all, jewelry should last forever. The Platinum Sapphire ring contains one emerald-cut sapphire that is almost 10 carats …with 2 step-cut trapezoid diamonds, each one flanking a side of the  sapphire. And there is more: 42 round brilliant diamonds pave-set down the shank/sides of the ring!
Made in the USA
Behind the scenes of the Feathers showroom is the impressive manufacturing area where busy craftsman make the custom designs beautiful realities.  Yes, right there is where much of Feathers Custom Furnishings are created … made in the USA! Molina Fine Jewelers  also creates custom pieces in the USA… right in the Molina Design Studio in Phoenix, AZ.  The Yellow Diamond Ring on my finger (while I am on that beautiful couch) explains my smile and dreamy state. The ring is Platinum and 18K Yellow Gold showcasing a very rare  FANCY
VIVID YELLOW
Diamond that is over 7 carats, oval cut graded by GIA as  VS 1 Clarity, with two kite shape diamonds (one on each side the Vivid Yellow Diamond)  plus look at the those Diamonds SURROUNDING the sides/shank of the ring…..BREATHLESS!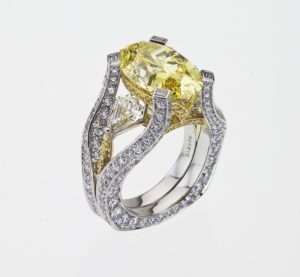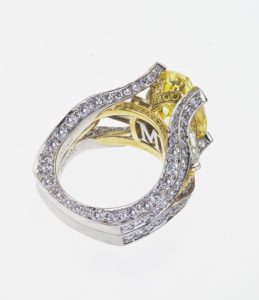 Imagination and Sparkle
If you visit
Feathers website
and click "ABOUT" you will immediately be greeted with these words
WELCOME TO FEATHERS, YOUR HOME OF IMAGINATION.
From my point-of view, it is an IMAGINATIVE HOME OF SPARKLE …where dreaming is encouraged!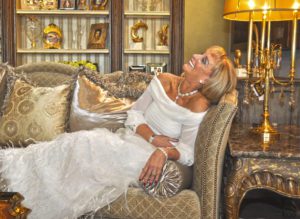 WANT TO BOOST YOUR IMAGINATION & DREAMS? 

 
Start with an online visit to 

 Molina Fine Jewelers . 
If you are in Scottsdale,  a visit to the  Molina Fine Jewelers Salon  is by appointment only.  There is also a Boutique, however, that is  open for all; NO APPOINTMENT NECESSARY. Tell them I sent you and request a tour; their  sparkling hospitality is UNFORGETTABLE …like their rare  jewels!