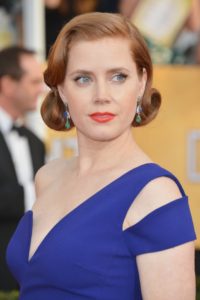 I hope you experience the pleasure of luxury vintage shopping.  When its time for vintage
jewelry
shopping, any  jewel you find has surely "lived" an interesting life….but there is a sense of romanticism about becoming its new owner and keeping its journey moving through the ages.  As I've shared before,  each piece of jewelry holds its
own unique stories
.  Imagine a chic debutante wearing your Chanel earrings in the 1960s!  Perhaps an elegant world traveler first acquired your Cartier diamond panther cuff. Depending on your source for vintage jewelry, you may be lucky enough to learn who the owner(s) was or receive other special background information about what makes your piece unique.
Treasure Hunting is fun….but CAUTION!
The allure of vintage shopping is always linked to the discoveries…but the process can be fun, too! The most important word to keep top-of-mind when treasure hunting for vintage or antique jewelry is 
"Authentic
". This means you should ASK QUESTIONS! Just because someone is describing a stone as a "beautiful gem",  does not mean it is a genuine gemstone ….it could be glass or a synthetic. The word GOLD needs clarification as well.  Ask if it is 14K gold or 14K gold-plated …or gold-filled. Recognizable/signed luxury brands are usually a good bet.  Also, pay attention to the
Condition!
  Pre-owned vintage jewelry  has its attraction and "worn" has an allure… but beware of broken prongs, small missing gemstones, bends, deep dents or visible repairs.
Worth Noting: Vintage, Antique & Estate
Vintage has become a popular adjective used by fashionistas, treasure hunters and jewelry collectors…and I love the mystery and allure that surrounds all things Vintage Like the vintage Bvlgari necklace worn by Jessica Chastain in the picture below. Nevertheless, the word "VINTAGE" does have a technical meaning that some jewelers adhere/use (i.e. some, not all).  I offer the following  traditional definitions as a reminder to my cautionary notes above: You should always ASK QUESTIONS!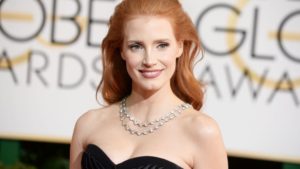 Antique – 100 years old or greater
Vintage – 25 to 99 years old
Estate – 24 years old OR LESS….it can be almost new, as long as it was  previously-owned.
Worthy Of A Visit
If hunting down that jeweled brooch from the 1930s for months doesn't appeal to you…. you have the option of simply visiting your favorite vintage shop to see what's in store. Vintage shops, antique jewelers and auction houses are filled with delightful jewelry that still look as magnificent as ever. Also, I love Antique Shows…The Palm Beach Show Group produces ten (10)  Art, Antique & Jewelry shows in seven cities nationwide…and any one of the shows is worthy of an exploration.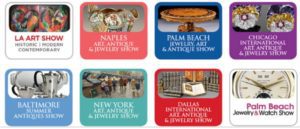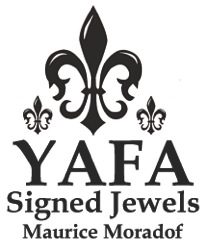 Yafa is one of my favorites to visit when I am at the Palm Beach Art, Antique  & Jewelry Shows. They have an office soon to be opening in NYC and you can view their beautiful signed pieces online via their website.
www.YafaJewelry.com
   I am including a pic of their  Circa 1920's CARTIER PLATINUM JADE, DIAMOND, SAPPHIRE PIN Country of origin – USA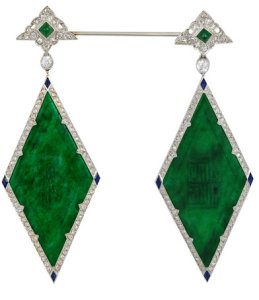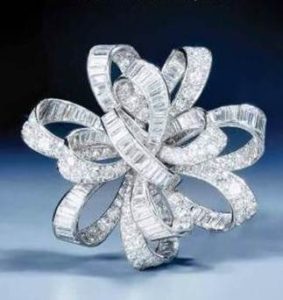 VISIT YOUR LOCAL JEWLER, TOO
! Many independent jewelers also have as special area dedicated to pre-owned/vintage jewelry…and they love to share their expertise and talk with you about their treasures.   There are some Jewelers for whom Estate or Vintage Jewelry is their specialty.
Online Shopping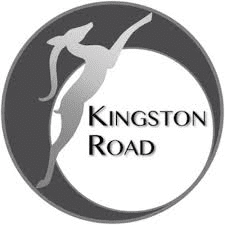 Go vintage shopping in person unless you are 100% certain your online source is trustworthy, but here is one that has a great reputation!   
www.KingstonRoad.com
  The owner is Patricia Parmley  and she is a candidate for GG (in studies for Graduate Gemologist via GIA). Patricia will answer all of your questions and she also organizes her treasures via lots of Collections….which  make treasure hunting easier. To name a few, she offers The Signed Collection, the Romantic Collection, Vintage Collection & Gold Collection. I also am partial (BTW) to great vintage brooches…..which find themselves on my suit lapels or in my hair.  This  Sapphire and Diamond Art Deco 14K White Gold Antique Jewelry Bar Brooch is one of Patricia's via Kingston Road.com.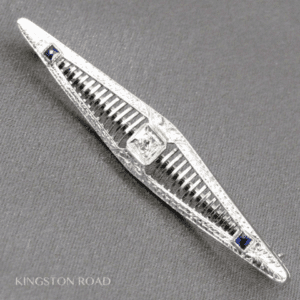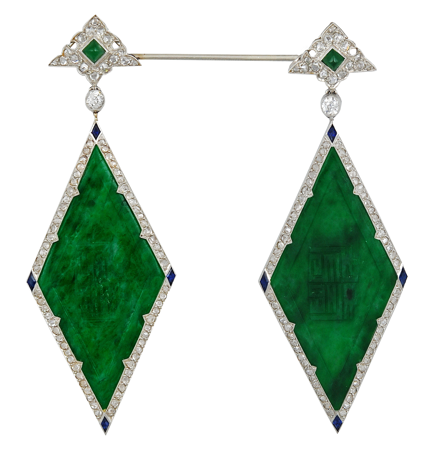 Additional Image Information: Jessica Chastain wears a vintage Bvlgari necklace and Amy Adams wears vintage Cartier earrings. Photo Credits:
www.hollywoodreporter.com
,
www.bellasugar.com
(Amy Adams)